MANUFACTURED IN THE USA
Gorilla Wall Braces are manufactured in the USA. Retaining manufacturing in America makes sense for both our enviroment and economy – with higher quality results.
PATENTED BETTER DESIGN
Gorilla Wall Braces utilize the support of three floor joists, increasing the pushing strength over other basement bracing systems that push off only one floor joist.
Gorilla

Wall Braces Review

Gorilla Wall Braces are the only Professional Engineer-Stamped DIY solution to straighten bowing basement walls.

Watch this video to see a customer's before and after pictures of how he was able to fix his severely bowed basement wall with Gorilla Wall Braces.

SEE MORE CUSTOMER REVIEWSSHOP NOW
Gorilla

Wall Braces

– an effective & economical DIY solution to fix your bowing basment walls.
Save thousands of dollars by fixing your bulging basement walls yourself!
Gorilla
Wall Braces
– available for PERPENDICULAR & PARALLEL basement walls.
Patented,

engineer-stamped

and better designed!
Gorilla Wall Braces are the only DIY product in the industry that have been put through pressure and stress tests by a Professional Engineer – earning a Professional Engineer Stamp – ensuring that the Gorilla Wall Braces are a safe and effective basement bracing system to fix your bowing basement walls.

Fixing Basement Walls PERPENDICULAR to the Floor Joist
Unique in the industry, the PERPENDICULAR Gorilla Wall Braces utilize the support of three floor joists to straighten bowing basement walls. This engineered and patented design distributes the wall loads more evenly to the floor joists, reducing side pressure, which in turn prevents the wood joists from twisting or buckling like in other basement wall straightening systems that push off only one or two floor joists.

Fixing Basement Walls PARALLEL to the Floor Joist
The PARALLEL Gorilla Wall Braces are secured in a similar fashion to evenly distribute foundation wall loads over multiple floor joists – a better engineered and tested DIY basement wall straightening solution.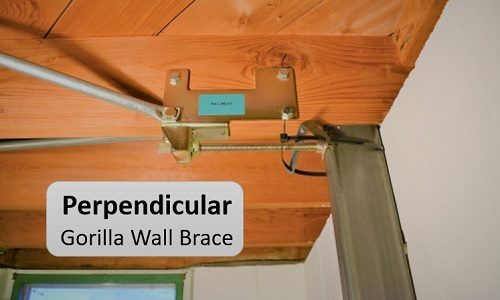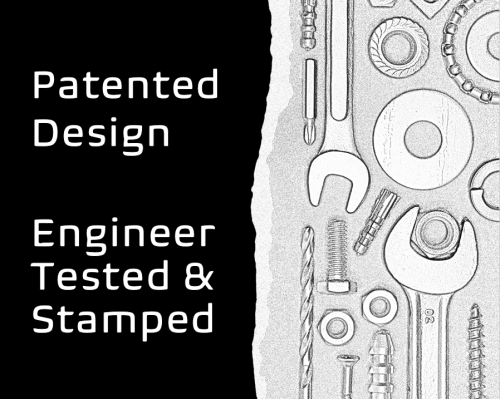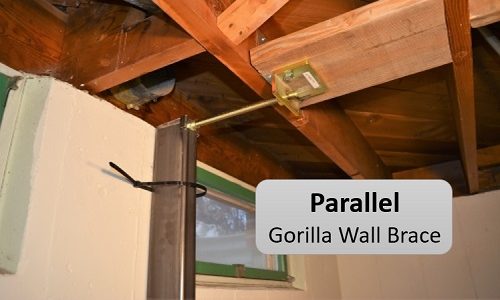 Installation Video Included
Installing Gorilla Wall Braces typically takes about 30 minutes each brace. Your bowing basement walls can be straightened in one day!

With your Gorilla Wall Braces order, you'll receive a link to a 12 minute installation video. This professionally produced video, along with the corresponding written directions, will give you clear and step-by-step instructions to install Gorilla Wall Braces properly. Watch a 40 second sneak peek of the installation process…
GORILLA WALL BRACES – INSTALL SNEAK PEAK
SHOP NOW
Benefits of Gorilla Wall Braces
The Gorilla Wall Braces system is a proven solution for straightening bulging basement walls and eliminates any further movement of foundation walls pushing in.
From Adam – rallycsx on YouTube
Gorilla

Wall Braces Review
"I was quoted over $30,000 for this repair and I completed all of the work for less than $4000 for 2 houses!"
"I am happy to report that I have successfully moved the wall back to the original position and closed the cracks in the back house .The main house still has some open cracks but the top of the wall is returned to plumb and the visible cracking has been significantly reduced."
I have an 80 year old cinderblock basement that was separating on the seems and bowing. I had several contractors give me quotes between 15 and 25 thousand dollars to repair. Way too much money for me so I researched a number of wall brace companies and was immediately impressed with the Resch Inc Gorilla brace system. I saved so much money and Andy at Resch was an incredible help answering all of my questions over several phone calls. I HIGHLY recommend going on line and checking out their Gorilla brace and many other products. As far as I'm concerned it is the best wall brace product on the market!
Andy and the folks at Resch Enterprises were fantastic to work with and were flexible in meeting my needs. I had a basement wall that was slightly bowing in and their perpendicular Gorilla Braces worked perfectly to partially close the bowing gap and provide significant additional support. My installation was slightly unconventional based on the recommended practices from Resch Enterprises, but a personal phone call from the owner allowed me to work through the details and make sure I was getting a product that would suit my needs. If you are looking for a quality wall brace system for your bowing block wall, look no further! I installed seven braces in about 3hrs time.
Purchased seven Gorilla Braces for a bowed basement wall made of brick. These were combined with locally sourced steel beams. I was very happy with the quality of design and construction. Resch Enterprises is family-run and they know basements! They are highly recommended
Dillon Katskee
2022-07-15
This amazing family owned is engineering and producing great products that we are using in Omaha Nebraska. Thank you Andy, Greg and Becky for taking the time out of your busy schedules to help our small business. We appreciate you 👍🏻👍🏻
Excellent customer service, excellent product, they were extremely helpful in the whole process from beginning to end. In fact it almost seemed too easy. I have a poorly built 70 year old block wall that was bowing and shearing due to large clay deposits and poor drainage. The system was able to remedy the bow and give me confidence that any block movement was ceased. Photos don't do justice to the massive improvement. I went from the beams being about 2-5 inches away from the wall to near plumb within a weekend.
My experience with Resch Enterprises was among the best I could have hoped for as a consumer and do-it-yourself type. The quality of the product, accuracy and speed of the delivery, and their customer service was 5-star worthy. I made an error with the order yet they were very gracious to correct it when I made them aware. Becky was great with that. I've often purchased product in my personal and professional life and dealing with Resch restored my belief in American entrepreneurship and a desire to exceed expectations. I highly recommend them.
Great Problem Solvers I did some research and decided to contact Resch Enterprises to solve a basement wall problem. It had been back filled too soon after construction many years ago. Resch Enterprises did very well for me. The hardware was 100% complete and high quality. The shipping was right on target the date and followup support and instructions were great. Andy and his team members are wonderful with shared expertise and technical support! I can see, and prove with measurements, that the beam installation will do the job. This was a good solution my project. Thank you. Sincerely, John in Central Wisconsin
I have researched quite a bit about various ways to correct bowed basement walls. After narrowing things down, I contacted Resch Enterprises to discuss their Gorilla Wall Braces. I spoke directly with Andy Resch, who answered all my questions and had the braces at my door next day (I live in Illinois). Within just a few days, my wall is almost completely straight and I must say that I'm truly impressed. If you have the recommended tools and a little DIY skill, its a fairly easy job.
The gorilla system works awesome. My wall was about 2 1/2"out. I excavated the dirt away from the basement wall to waterproof at the same time. Gorilla system was easy to install and my walls were straight with just a couple hours of work. I would recommend this product to anyone.
Superb service from these fine folks. I needed the product I ordered ASAP and they didn't disappoint. A classy company that understands the value of customer service.
Gorilla

Wall Braces
Orders Typically Ship Out in 2-3 Business Days
Gorilla Wall Braces are manufactured locally so our inventory is not affected by foreign imports shipping delays. We keep Gorilla Wall Braces stocked up in our warehouse as we know when your basement walls are bowing in – it is not something that can wait!
Gorilla Wall Brace orders are typically shipped out in 2-3 business days. Most orders arrive within 2 weeks.
If shipping Gorilla Wall Braces to Canada, Alaska or Hawaii, please allow extra time for shipping. And also for orders that contain 20+ braces as they ship by truck on a pallet.
SHOP NOW
Reparing bowed basement walls with DIY

Gorilla

Wall Braces
What Does It Cost?
Repairing your foundation walls can be less costly if you do it yourself. Customers share how they have saved thousands by fixing their bowing basement walls themselves with Gorilla Wall Braces.

The steel beams are NOT included with Gorilla Wall Braces. Purchase the steel beams locally or online at MetalsDepot.com (a 10% off coupon is included with your Gorilla Wall Brace order).

Order 4 or more Gorilla Wall Brace kits and shipping is FREE!